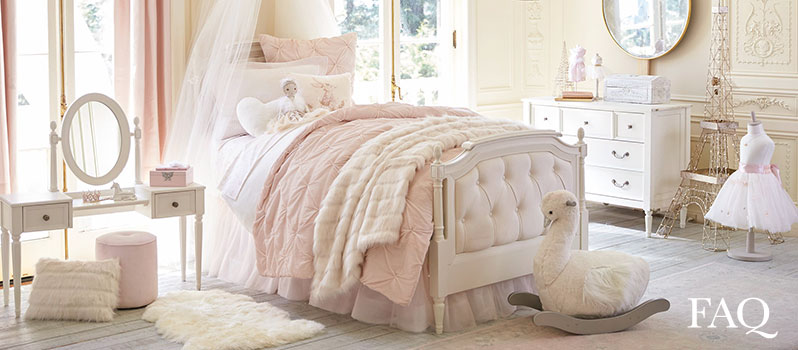 Frequently Asked Questions
Where are your Pottery Barn Kids Stores located in Canada?
Please see our Stores page for detailed location information and store hours.
Does Pottery Barn Kids ship merchandise to Canadian addresses?
Yes. Through our partnership with global provider FiftyOne, we now offer international shipping of most items to over 90 countries, including Canada and duties and taxes are calculated and guaranteed at checkout. Learn more and start shopping at potterybarnkids.com.
You can also place an order over the phone from our stores. For further information, please call your local store.
Do you ship furniture items internationally?
Unfortunately, international shipping restrictions prevent us from shipping oversized items to some countries outside of the U.S. Canadian customers can purchase oversized items and items delivered by our In-Home Delivery Service by ordering through a local store. Prices on our Web Site may differ from prices in stores. Delivery restrictions may exist. To place an order, call your local store. View details of what is ineligible.
What items are ineligible for international shipping?
Pottery Barn Kids offers International Shipping on most items. However, certain items are not eligible to ship internationally.
Items NOT eligible for international shipping include:
Oversized items or items requiring special handling as denoted by a surcharge after the item price. However, Canadian customers can purchase oversized items and items delivered by our In-Home Delivery Service by ordering through a local store. Prices on our Web Site may differ from prices in stores. Delivery restrictions may exist. To place an order, call your local store.
Hazardous materials, live botanicals, aerosols, food products and other items restricted from exporting
Gift Cards
Please note: Our electrics CAN be shipped internationally, but they MUST be used with the correct outlet adapters and voltage converters for your area. Plugging our electrics into improper outlets (in excess of 110-120 volts) may result in fire and/or injury.
How will I know how much my order will cost?
After you've added items to your basket and clicked on the checkout button, FiftyOne will calculate and display a guaranteed order total in your preferred currency - including all shipping costs from our warehouse(s) in the U.S. to your selected international destination, and any applicable duties and taxes imposed by the customs and revenue authorities in the destination country.
How much does international shipping cost?
International shipping is calculated using a number of factors, including the number of items you are purchasing, the weight of the items, and the destination country/region.
How much duty and taxes are charged on international orders?
Duty (or customs tariffs) is set by the destination country's customs authorities and is based on a combination of the country of origin or manufacturing of the goods being purchased, and the classification of that merchandise in accordance with a harmonized system adopted and used by the countries FiftyOne supports. Value Added Tax (VAT) rates are set by the destination country. You will be able to view the guaranteed total amount of applicable duty and tax/VAT for your order within the FiftyOne global checkout.
Do you ship to U.S. military addresses (APO/FPO)?
Orders shipping to U.S. military addresses should go through our domestic checkout, as they are not subject to the same costs and logistics flows as other international orders. To do this, you should shop as if shipping to an address within the U.S.
I live outside of the U.S. Can I use FiftyOne to order items to be sent as gifts to the United States?
All international catalogue/internet orders must have a ship to destination outside of the United States. However, if you would like to have a gift sent to a United States address, please call 1-866-753-1349 and a customer representative will be happy to assist you.
Does Pottery Barn Kids ship catalogues to Canadian addresses?
Unfortunately, our systems do not accommodate shipment of catalogues outside of the United States. We value your interest in our company. Please visit Request Info to register for updates about our stores in Canada and future opportunities for our Canadian customers.
Do Canadian stores offer an in-store gift registry program?
We are pleased to offer the Pottery Barn Kids Baby & Gift Registry to our Canadian customers! This service is provided exclusively for our Canadian Registrants and is available at most Canadian Pottery Barn Kids retail stores. For assistance with creating or purchasing from a Canadian Registry, please contact one of our local stores.
Can I order items from the U.S. Pottery Barn Kids gift registry for delivery within the United States?
Purchases from a U.S. gift registry can be made through our customer care center by calling 1-866-753-1349. The customer service representative will ensure that the purchase is updated in the gift registry.
What is the Pottery Barn Kids return and exchange policy for items purchased from a store or ordered over the phone from a store?
At Pottery Barn Kids, we take great pride in the quality and craftsmanship of our products. Attention to design, materials, safety and construction is our priority. We carefully inspect your order prior to shipment; upon receipt, please inspect your purchase and notify us of any damage. We will arrange for a prompt replacement. If, within 7 days for Quick Ship upholstery or 30 days for all other products, you are dissatisfied for any reason, you may return your purchase for a refund of the merchandise value. We cannot accept returns on monogrammed, personalized, final sale or special-order items, or on items damaged through normal wear and tear. For our return policy on gift registry purchases, or for detailed procedures for returning other items, please visit potterybarnkids.com or call 800.430.7373.
International Customers - Please note, all orders processed through FiftyOne must receive a return authorization from our call center and cannot be accepted in any of our retail stores. Please contact us immediately if you would like to return your item. Returns will be credited by our partner, FiftyOne, in the original currency used for purchase.
For detailed procedures on returning other items, please contact us:
From United States, US Territories, and AFP/FPO
Phone: 1.800.993.4923
5AM and 9PM (PST) 7 days a week
Fax: 702.363.2541
From Canada
Phone: 1.855.860.1080
5AM and 9PM (PST) 7 days a week
From All Other Countries
Toll Free: +800 15003333
5AM and 9PM (PST) 7 days a week
Toll: 1.405.717.6138
Can I exchange or return merchandise in Canada that was purchased in the United States or vice versa?
Cross-border returns are not allowed. Purchases made in the US can only be returned in the US and purchases made in Canada can only be returned in Canada.
As a Canadian customer, can I purchase or redeem gift cards?
We offer gift cards in all of our stores; however, gift cards can only be honoured in the country in which they were purchased. Unfortunately, gift cards are not currently supported for purchase or redemption online.
How can I reach Pottery Barn Kids?
You may reach Pottery Barn Kids via email. We do our best to reply to all inquiries within one business day. Please see Contact Us for email information.
How do I forward my résumé for employment in your Canadian stores?
Pottery Barn Kids Canada is actively seeking qualified retail store associates. For a current list of job descriptions, please visit Careers.
I would like to profile Pottery Barn Kids Canada for an article I am writing. Who should I contact for further information?
All media inquiries should be forwarded via email to .
How can I learn more about the Williams-Sonoma corporation?
Investor relations, most recent press releases, executive biographies and the company history can be found on the Williams-Sonoma, Inc. corporate website at www.williams-sonomainc.com.